Boozy Broads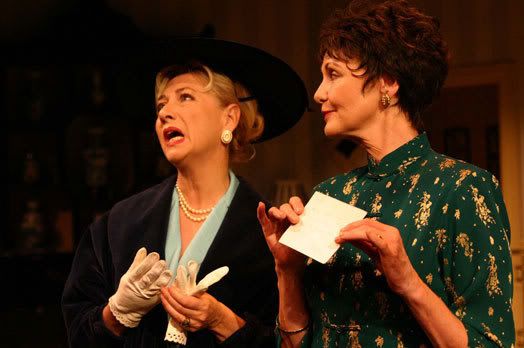 Fallen Angels
by Noël Coward
directed by Diana Leblanc
Leanor and Alvin Segal Theatre (Saidye Bronfman Centre for the Arts)

November 2, 2006
Following last season's successful production of The Importance of Being Earnest comes another funny and fripperous comedy of manners at the Saidye. Fallen Angels was one of Noël Coward's earliest plays, written when the author was only in his twenties and beginning a fascination with the decadence and morals of the rich.
The story, or sketch of a story, concerns friends Jane and Julia, and the impending arrival of a pre-marriage lover of them both, Maurice, into their terminally English upper crust lives. Fueled by alarming quantities of champagne, a whirlwind of rivalry and jealousy ensues. Should they depart and avoid the encounter? And what to tell their husbands?
If Fallen Angels succeeds at all it is down to the depth of female talent on stage. Goldie Semple, Brigitte Robinson, and Clare Coulter have an ocean of stage experience among them at the Shaw and Stratford festivals and countless theatres here in Montreal, in Toronto, and elsewhere.
Brigitte Robinson's dishy blonde Jane is a lovely train wreck of impulsiveness, tittering laughter, and distracted remarks. She is more than matched by the imperious and flailing Goldie Semple as Julia. In a few moments, the affected friendship of these two self-absorbed creatures is laid bare.
Clare Coulter's portrayal of Julia's maid, the all-knowing Saunders, is an amusing collage of eccentricities. As the help who refuses to "know her place" in the household, Saunders is by turns a linguist, sports expert, musician, doctor, and missionary who unfailingly injects unwelcome and corrective commentary into the proceedings.
Michael Gianfrancesco's lavish set and costume designs are right on, providing a beautiful and convincing look which pulls us into the play.
Husbands Fred and Willy (Noel Burton and Tim Hine) are the appropriately irrelevant Cowardian accessories to Jane and Julia's schemes, only showing up to bluster and shake heads disapprovingly before being shooed away.
It's all a witty ball of fluff, of course. Coward's 1925 play was always regarded, including by its author, as rather slight - even at the time of its London Globe Theatre premiere with Tallulah Bankhead playing Julia.
In a play such as this, containing a mere glimmer of the plotting and verbal dexterity which Oscar Wilde had already elevated to high art, director Diana Leblanc needed to imprint on the story something of substance; to manage the freneticism and shape her energetic leads into more than a couple of amusing and boozy broads.
As it was, it was lovely fun for a while, but like the events of a drunken evening, the story and it details are soon forgotten.
---
Fallen Angels continues to November 12
Leanor and Alvin Segal Theatre
(Saidye Bronfman Centre for the Arts)
5170 Côte-Ste-Catherine Rd. (Metro Côte-Ste-Catherine)
tickets/info: 514-739-7944
Revisiting the New Classics for the first time
97 plays in 10 days
Can't we all get along?
An ongoing story
The current theatre - November 2005
Last Call at the Fringe